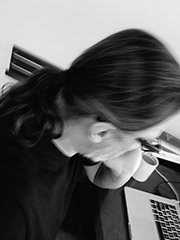 Digital Publishing Designer is Darius Janczewski, a freelance graphic designer with over 20 years of professional experience in various graphic design projects, specializing in book and publications design for both traditional and electronic media.

He graduated Magna Cum Laude in graphic design from the prestigious five-year program at the University of Cincinnati's Design, Architecture, Art, and Planning program, located in Cincinnati, Ohio.
Darius's projects range from book design, brochures, and instructional manuals, to journals and other publications.
His teachers and mentors, Robert Probst and Hans Schneider, were both educated at the world-renowned design school at Basel, Switzerland.
Darius moved to Missoula, Montana in 1999 where he started his freelancing  design business, working on a variety of projects, mostly involving publications.
Currently, Darius is involved in several book design projects, one being a cookbook for a notable Montana chef, Ray Risho, whose recognition and fame came from his highly successful mediterranean-style restaurant in Missoula, called Perugia. The full-color book will include Risho's fascinating biography, his multicultural recipes, and will feature food photography by noted Missoula photographer Jonathan Qualben.
Today, Darius lives and works in Missoula, Montana.